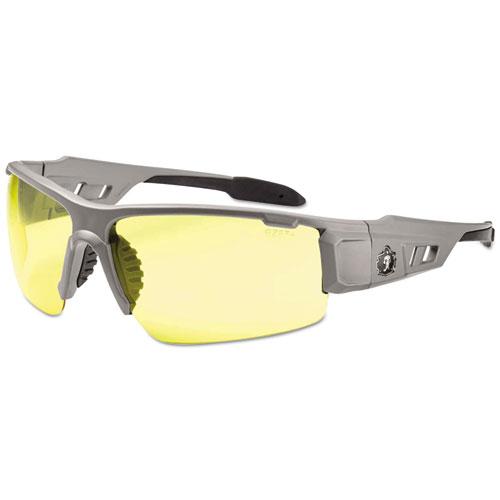 Skullerz Dagr Yellow Lens Safety Glasses
ERGODYNE part 52150
Product ID 0657652150
$41.64*
*Final pricing and availability will be determined upon request for quote. Volume discounts and other price adjustments may apply.
Description
Skullerz Dagr Yellow Lens Safety Glasses - Recommended for: Sport, Shooting, Boating, Hunting, Fishing, Skiing, Construction, Landscaping, Carpentry - Scratch Resistant, Durable, Non-slip, Sweat Resistant, Impact Resistant, Anti-glare, Comfortable, Break Resistant, Bendable Frame, Puncture Resistant Lens, Crack Resistant Lens, ... - UVA, UVB, UVC, Debris, Dust Protection - 1 / Each
More details
Skullerz Dagr Safety Glasses feature a tough, scratch-resistant lens that filters 99.9 percent of harmful UVA, UVB and UVC rays to keep your eyes safe in the sun. Blade-style design is a sleek and sporty look - perfect both on the job or off. Half-blade frame offers improved lower and peripheral vision. These protective, work safety sunglasses are military tested and ANSI Compliant. Ideal for indoors, outdoors, low light and hazy/cloudy conditions, the yellow lens increases brightness in dull conditions. Durable, nylon frame bends and flexes without breaking. Nonslip, rubber nose piece and rubber temples keep the glasses secure and resist sweat. Temple accessory slot lets you add accessories while improving airflow. Frame width is 146mm.